Get Ready For Rewards
Cashback Rewards and Cashback Rewards PLUS Checking Offer:
Cash back with every qualifying Debit Card transaction and no monthly fees for qualifying members!
Get Paid One Day Early

When you enroll in Direct Deposit you get paid one day early.1
Contactless Payments

Use your Debit Card with a tap or add it to your mobile wallet for both Google Pay and Apple Pay.
Fraud Monitoring 24/7



Keeping your money safe around the clock.
1 Early access to direct deposit funds depends on the timing of the submission of the payment file from the sender.
Discover Your Perfect Checking Account
Discover the perfect Checking Account to suit your financial needs and unlock a world of rewards when you open your Checking Account online today!
Earn Cash Back Rewards
Cashback Rewards Checking Account
Earn $0.10 per qualifying Debit Card transaction2
No Minimum Balance3
No Service Charge3
Free Online Banking
Free Online Bill Pay
Free Mobile App Banking
Access to over 55,000 surcharge-free ATMs
Earn More Cash Back
Cashback Rewards Plus Checking Account
Earn $0.15 per qualifying Debit Card transaction2
Plus earn $0.25 MORE on transactions over $50
Mobile device protection
Free Online Banking
Free Online Bill Pay
Free Mobile App Banking
Access to over 55,000 surcharge-free ATMs
2 When twelve (12) Finex Credit Union Debit Card transactions (excludes ATM transactions) post to the account during the Reward Period, you will receive Cash Back in the following amount: $0.10 cents per debit card transaction in the amount of ten ($10) dollars or more. The maximum cash-back payout amount is $10 per cycle. At our discretion, we may change the transaction requirements and reward amounts. Qualification Requirements to Obtain the Cash Rewards. **You must satisfy all of the following Qualification Requirements during each Qualification Period to obtain Cash Rewards. Have at least one (1) Direct Deposit (ACH credit will be accepted if direct deposit is unavailable to the member) in the minimum amount of $300. Sign up for eServices (including estatements, eNews, Homebanking) with a valid email address. You must have a minimum of twelve (12) Finex Credit Union Debit Card point-of-sale transactions or Signature (Qualifying Transactions) in the amount of $10 or more, posted to your account during the Reward Period. ATM Transactions are not Qualifying Transactions and will not be counted toward the minimum twelve transactions or be paid Cash Rewards. $10 Service Charge imposed if Direct Deposit Requirement is not met Cash Back Truth in Savings Cashback Plus Truth in Savings.

3 There is no minimum account balance or service charge if account qualifications are met.
1 Early access to direct deposit funds depends on the timing of the submission of the payment file from the sender.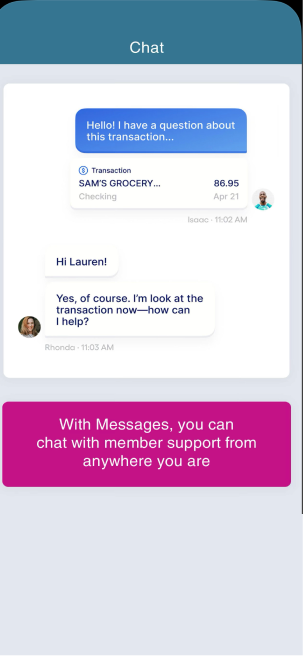 Wherever You Are
Access Your Checking Account With Mobile Banking
Manage your Finex Credit Union accounts and enjoy advanced features that help you keep your finances on track from the palm of your hand!
Chat With Us

Chat with our member support team in real-time through the Finex Mobile Banking App. It's safe, secure, and available for you wherever you are!

Send Money with Zelle®

Pay back your friends or cover your portion of the bill quickly and securely with just an email address or U.S. mobile number.

Explore Zelle®
Control Your Cards

Avoid the hassle of getting a new debit card if yours is simply misplaced. Easily lock and secure your misplaced card and unlock it when you find it.

Monitor Your Credit

Track your credit score quarterly with our Credit Trends Tool. Make informed financial decisions with this secure and private feature right from our app!

Explore These Features
Wherever You Are In Your Life...
We Have The Checking Account For You
No Wallet, No Worries
Add Your Cards to Your Mobile Wallet
Shop safely and securely without ever reaching for your purse or pocket. Add your cards to a digital wallet and make purchases anywhere contactless payments are accepted.
Fast



Stop digging your debit card from your pocket, purse, or wallet and pay faster from your phone or smartwatch.

Secure



No card information is stored on your phone, and your card number is not sent to merchants.
Google Pay
Use any digital wallet with Google Pay to add your card to an Android phone and start doing more with your money.
Add Your Card to Google Pay
Apple Pay
Use Apple Pay on your iPhone, iPad, Apple Watch, or Mac to simplify your payments while paying on the go.
Add Your Card to Apple Pay
Contactless Payments
Simply hold your phone or watch near the card reader at any merchant where you see the contactless symbol.
View Contactless Symbol
What our members are saying...
"This is a great hometown credit union. I have used them for all my banking needs including mortgage, car purchases, personal loans, savings, and checking. The staff are knowledgeable and friendly and a pleasure to work with ."
"I have gotten loans through them and do checking and savings accounts as well. Great personalized service and good rates!"
"Have been with this Credit Union since I opened up my first checking account in middle school 15+ years ago! The best"
Your Checking Account Questions, Answered
Frequently Asked Questions
How can I get paid early?
By setting up for direct deposit through any of our checking accounts you can receive the deposit early. One thing to keep in mind is that early direct deposits depend on timing. Your payer must provide payment details on time so the deposit can process early. If your deposit doesn't arrive to us early, expect it to arrive on your scheduled payday.
How can I bank with you?
Although we have convenient locations available for service, you can use one of over 55,000 surcharge-free AllPoint Network ATMs and over 5,000 credit union shared branches nationwide. You can make deposits and withdrawals free of charge when you're our member. Finex also has a variety of Mobile Banking functions, so we really can be wherever you are.
What if I had credit issues in the past?
If you have had an unfortunate experience with a checking account or credit issues in the past, we may be able to help. We are here to help you rebuild your banking journey through our Second Chance Checking Account. If you have questions feel free to contact us.