New To Online Banking?
Register for Online and Mobile Banking Today
Check It Off Your List
Make Your Payments With Online Bill Pay
Quick and easy payments with Online Banking. Easily manage your payments and enjoy the seamless experience of Online Bill Pay.
Pay Now Or Later



Pay a bill today, or schedule your payment for a later date.

Recurring Payments



Schedule recurring payments for bills that hit every month.

Payment History



Keep track of the bills you have already paid by viewing your payment history.
Go Green
Switch To eStatements Today!
Save a tree, save time, and avoid potential identity theft by switching from printed to eStatements. Receive your statements sooner and more securely than traditional mailed paper statements.
Fast



Your statements are visible in your Online Banking account sooner than you would see your mailed statement.

Convenient

View previous statements from your Online Banking account or Mobile Banking App.
Secure



Your statements can't be lost in the mail if they are delivered electronically.

Environmentally Friendly



Stop receiving printed statements by going green with eStatements today.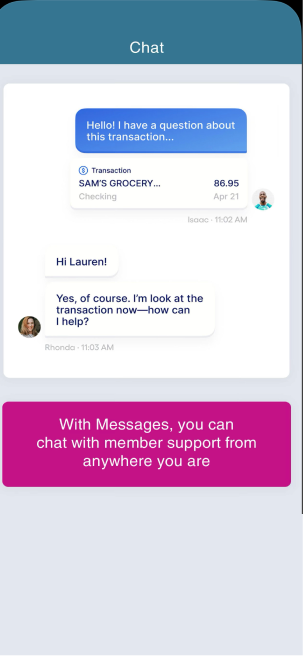 Don't Miss Out On The App
Enhanced Mobile Banking is at Your Fingertips
Manage your Finex Credit Union accounts and enjoy advanced features that help you keep your finances on track from the palm of your hand!
Chat With Us

Chat with our member support team in real-time through the Finex Mobile Banking App. It's safe, secure, and available for you wherever you are!

Send Money with Zelle®

Pay back your friends or cover your portion of the bill quickly and securely with just an email address or U.S. mobile number.

Explore Zelle®
Control Your Cards

Avoid the hassle of getting a new debit card if yours is simply misplaced. Easily lock and secure your misplaced card and unlock it when you find it.

Monitor Your Credit

Track your credit score quarterly with our Credit Trends Tool. Make informed financial decisions with this secure and private feature right from our app!

Explore These Features
Your Online Banking Questions, Answered
Frequently Asked Questions
How do I log into the new Online Banking platform the first time?
The first time logging in you will have to input your username and password followed by your cell phone number where you will receive a One-Time Passcode (OTP).
The One-Time Passcode will only be needed the first time logging into the new online banking portal.
What if I forget my password?
You can choose the "Forgot" prompt in the home page of online banking and the mobile app. Input your username and email address and password reset instructions will be sent via email or SMS text.
What if I get locked out of my account?
Follow the reset password link. You will need your username and email address on file.
Not sure what your username is? You can click on "Try Another Way" and input your social security number and member number to get access to your account.
What our members are saying...
"Great online services, CD & loan rates, ATMs up to date, always prompt with account servicing. Specifically, Elena and Kelli are top notch and really make the difference!"
"Thank you to FINEX for always being courtesy, respectfully and for providing the best customer service. I'm a member for life. If you haven't join FINEX, what are you waiting for, you don't have to leave your home, sign up online now. It'll be worth it!"
"hey offer outstanding service and convenience. They invest in their website and mobile app and make continuous improvements. Their employees are friendly, courteous, and knowledgeable. "