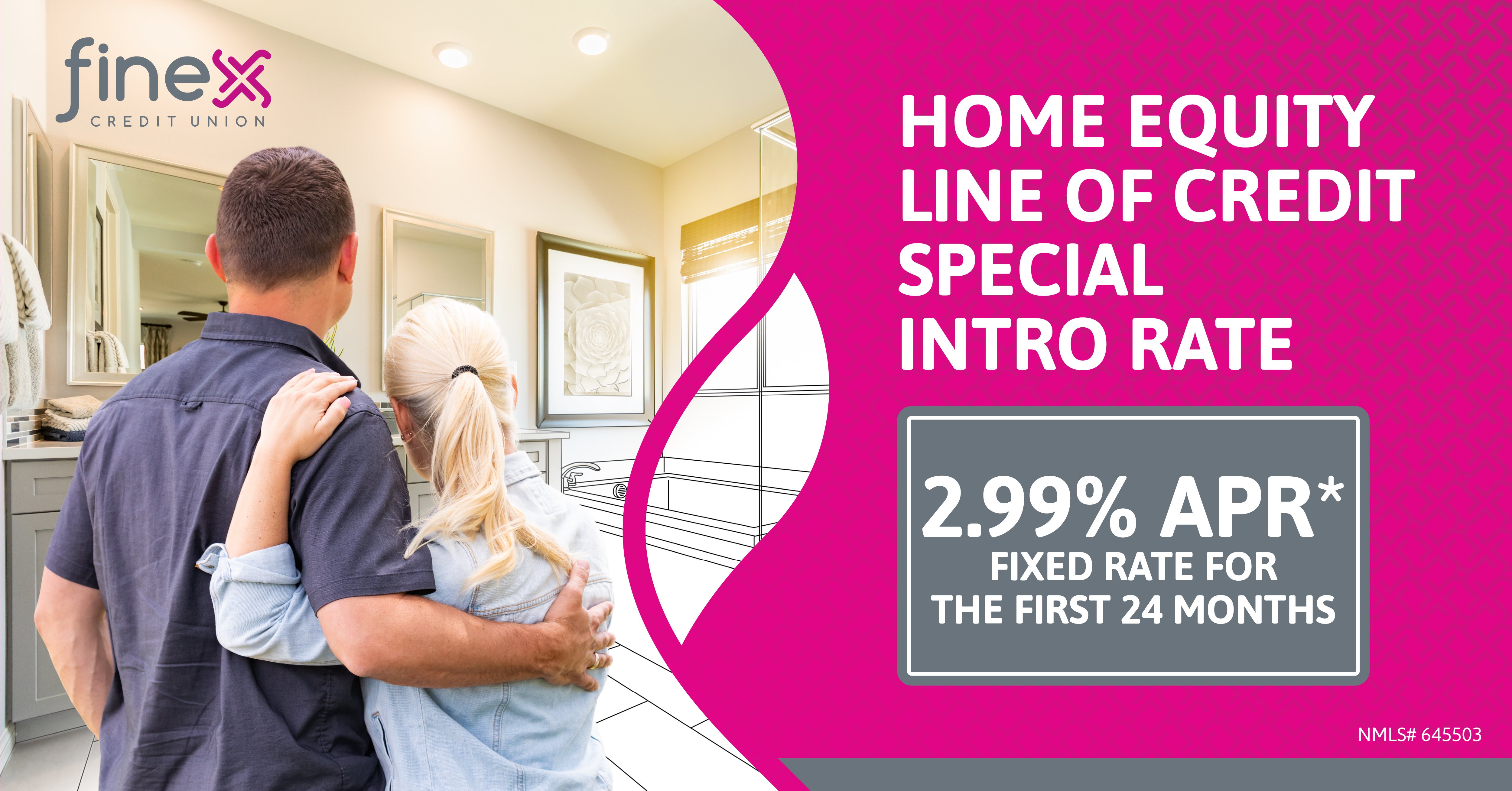 We offer a great variety of home equity loans and lines of credit. Take advantage of the equity in your home to achieve your goals!

Renovate your kitchen, go on that dream vacation, buy a new car or just consolidate your current debt – no matter the reason a Finex home equity loan or line of credit is the best solution.
Why Finex Credit Union:

Special 24-month fixed intro rate of 2.99% APR* for Home Equity Lines

[1]

No points

[2]

No closing costs

[2]

No pre-payment penalties
No set-up charges or application fees

[2]

No payments or interest until you use the cash

Are you ready to tap into the equity of your home today?
Get Started
[1] APR = Annual Percentage Rate. The introductory APR is fixed for two years (twenty-four months). After the second year, the APR is variable based on the U.S. Prime Rate as published in the Wall Street Journal, plus a margin. To obtain an introductory rate, borrower must meet credit and loan program requirements, including (but not limited to): 1) maximum Combined Loan-to-Value (CLTV) of up to 100%, 2). borrower must have automatic transfers from a Finex CU checking account for the monthly HELOC payments, and 3) borrower must not have had a previous introductory rate for a Finex CU HELOC within the past three years. Certain restrictions apply to existing lines of credit with Finex CU. The introductory rate applies to the variable line in use only and is not applicable to any Fixed-Rate Loan Option. Sale terms are effective on applications received from 5/1/2022 to 7/1/2022.
[2] The Prime APR is variable based on the U.S. Prime Rate as published in the Wall Street Journal, plus a margin (if applicable). The minimum floor APR is 4.00%. HELOCs are variable rate products and rates may not exceed the maximum legal limit for Federal credit unions (currently 18%). The Prime Rate as of 4/6/2022 = 3.50%.

[3] Rates and terms are subject to change without notice. All offers of credit are subject to credit approval requirements and applicants may be offered credit at higher rates and other terms. Loan-to-Value (LTV) and/or Combined LTV (CLTV) restrictions apply. Hazard insurance is required on all loans secured by real property (flood insurance may also be required where applicable). Rates shown are based on a borrower's 1-4 family primary residence, a maximum CLTV of 90%, must be a first or second lien, and automatic transfers from a Finex CU checking account. Consult a tax professional regarding the potential deductibility of interest. Membership at Finex CU is required by opening a minimum $5 share savings account at or prior to HELOC account opening.